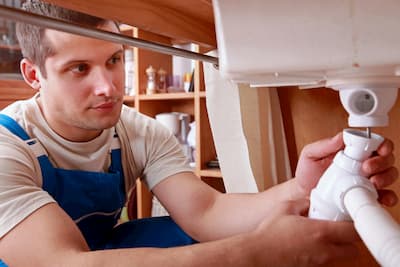 When you find yourself dealing with plumbing issues, the Frederick professionals you can trust are the folks at B-Line Plumbing & Drains. With a team consisting of experienced plumbers who remain dedicated to your complete customer satisfaction, we promise to not meet but exceed your expectations for every job we undertake:
Leak detection and repair
Toilet repair and installation
Garbage disposals
Water heater repairs
Drain cleaning
And more
Your home deserves the best care you can get for it, and when it comes to its plumbing needs, the best care comes courtesy of our Frederick plumbers. Please give us a call today if you need to schedule an appointment for any of the services we provide. We'll be more than happy to answer any questions you may have and to provide you with a 100% free estimate over the phone.
Water Heater Repairs in the Frederick Area
Like anyone, you're sure to put your water heater to use every single day, multiple times a day, for a variety of reasons. Of course, this use comes at a price, and that price is wear and tear that will develop over time. When this wear and tear develops to a substantial enough degree, your water heater will cease to function properly—if even at all.
When you find yourself dealing with such issues, don't get frustrated. Instead, get on the phone with our Frederick team to schedule a water heater repair. We'll quickly get your water heater working like new once more, no matter what condition it may be in. Here are some telltale signs that indicate it's time to schedule a repair:
Lack of hot water
Inconsistent water temps
Rust in water
Leak in water heater
Give Our Frederick Team a Call When You Need Emergency Plumbing Repairs
When plumbing issues strike in the middle of the night, you may lack access to your plumbing fixtures until you can get a plumber out the next day. Of course, if you don't want to wait that long, you can always call our Frederick team to schedule an appointment for an emergency plumbing repair.