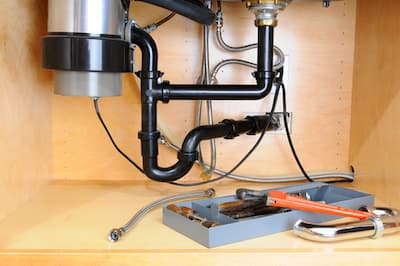 Your garbage disposal makes quick work of the dishwashing process, as it can eat away at bulky food products that may work their way down your drain. Still, as effective as a garbage disposal may be, it's not immune to wear and tear, and when that wear and tear develops, you can count on the Longmont plumbers at B-Line Plumbing & Drains to get things working right once more.
Our team of experienced plumbers will quickly find the cause of your garbage disposal issues and have those issues resolved in no time at all. Your complete customer satisfaction is our top priority, so you can count on us to provide the highest quality of work in the Longmont area. To enjoy that quality of work, please give us a call today. We'll be more than happy to provide a free job estimate online or over the phone.
Know When to Have Your Garbage Disposal Repaired
The good news is that garbage disposal issues are oftentimes heralded by some pretty obvious signs—signs which are quite hard to ignore. So, by being only slightly vigilant to the condition of your disposal, you can get a jump on any repair work needed to avoid any further damages. Some of the common signs of garbage disposal issues include the following:
Grinding noises
Locking up
Poor performance
Advanced age
Frequent sink back-ups
Let Our Longmont Team Handle All of Your Plumbing Needs
A properly working garbage disposal alone isn't enough to ensure your kitchen functions as best it can. After all, your kitchen sink should also work its very best. If it isn't performing that well, just give our Longmont team a call ASAP. With our faucet and sink repair, we'll get your kitchen sink working like brand new once more, no matter what condition it may be in.
No matter what plumbing work you may be dealing with, you can always count on us to provide the highest quality of work in the area. Don't just take our word for it: Instead, take a look at our testimonials and projects page to get an idea of the quality of work we consistently provide. If you're ready to enjoy that quality workmanship yourself, please give us a call today.
---
Recent Articles & Tips
Professional plumbers agree that flushing your water heater is essential for keeping your system running correctly. While it may not be mandatory, it's necessary for homeowners who want to get the fu […]
Most pipe blockages can be avoided by simply being smart about what you do and—more importantly—DON'T put down your sink. Of course, any sensible homeowner knows that the best way to avoid the need f […]