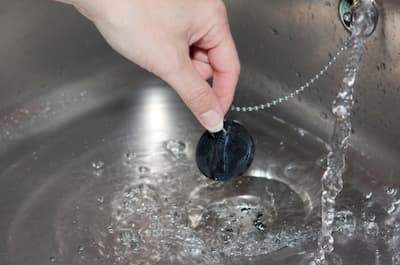 You can be as mindful as can be about what you do and do not put down your kitchen sink, but inevitably, you're going to find yourself dealing with a drain blockage. When you find yourself dealing with such a problem, the most effective course of action you can take is to call the Longmont pros at B-Line Plumbing & Drains to schedule a professional drain cleaning.
Our specialized plumbers have all the know-how and resources needed to get this job done in a quick and effective manner, no matter the size or stubbornness of the clog you're dealing with. So, at the first sign of a backup, please give us a call. We'll get things moving again in no time with a quick and thorough drain cleaning.
Avoid Backups by Being Smart about What You Don't Put down the Sink
Of course, any sensible person knows not to put grease or fat down the sink. However, there are many other food products that you should also avoid putting down your sink in order to avoid stubborn and oftentimes costly clogs. To help you avoid the need for most drain cleanings, here are just some of the food products that you should never put down your sink:
Flour
Pasta
Eggshells
Fruit stickers
Coffee grounds
Quality Plumbing Services from Our Longmont Team
From drain cleaning to faucet and sink repair, we proudly do it all to ensure Longmont homeowners always have access to quality plumbing. We're available 24 hours a day, so no matter when plumbing issues strike, you can always count on us to get the work handled so that you and your loved ones never go without the use of your plumbing fixtures.
Check out our testimonials and projects page to get a first-hand idea of the quality of work we provide for every job we undertake. That quality of work can be yours to enjoy if you give us a call today to schedule an appointment with us. We look forward to doing business with you so that you and your loved ones can enjoy the most dependable plumbing around.
---
Recent Articles & Tips
Professional plumbers agree that flushing your water heater is essential for keeping your system running correctly. While it may not be mandatory, it's necessary for homeowners who want to get the fu […]
Most pipe blockages can be avoided by simply being smart about what you do and—more importantly—DON'T put down your sink. Of course, any sensible homeowner knows that the best way to avoid the need f […]