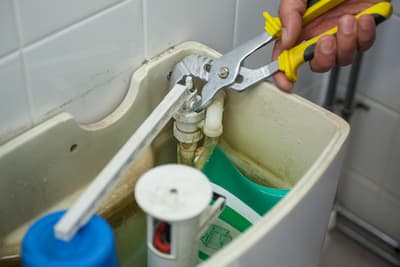 A faulty toilet is a hassle for you and any other member of your household, especially considering how frequently people make trips to the throne. To rectify any such hassles, look to the Longmont area professionals a B-Line Plumbing & Drains to provide toilet repairs and installation when any issues develop.
We employ a team of experienced plumbers who remain dedicated to providing the highest quality plumbing work in the area. So, when you find yourself in need of a toilet repair and installation, you can count on us to not meet but exceed your expectations. Please give us a call today to get a free estimate for your next toilet project.
Toilet Installation And Replacement Professionals
Maybe your current toilet works just fine, but you're simply not happy with the look or base performance of it. That's a perfectly valid reason to invest in a toilet installation, and we're more than happy to work with you to ensure you get the right toilet for your needs. After all, you might want to replace your toilet so that you can:
Upgrade your toilet
Install a low-flow toilet
Get a toilet that sits higher or lower (whichever you need)
Change the look of your toilet
Quality Plumbing Services from Our Experienced Team
An upgraded toilet won't do much to improve the overall performance of your bathroom if its sink isn't up to the same standards. Should you be dealing with a faulty sink, don't worry. You can always look to us for our faucet and sink repair services. No matter what service you're in need of, you can count on us to provide quality work every time.
You can get an idea of the quality of work we provide every time by checking out our testimonials and projects page. There, you'll read and see examples of the high-quality workmanship we provide for every job we undertake. If you're ready to enjoy that workmanship, just give us a call today.
---
Recent Articles & Tips
Professional plumbers agree that flushing your water heater is essential for keeping your system running correctly. While it may not be mandatory, it's necessary for homeowners who want to get the full life expectancy of their water heater. It's also critical if you want to reduce […]
Most pipe blockages can be avoided by simply being smart about what you do and—more importantly—DON'T put down your sink. Of course, any sensible homeowner knows that the best way to avoid the need for a drain cleaning is to avoid putting grease down the line. […]